With a staff complement comprising almost 57% millennials, Nedbank is not only investing in the future of South Africa's youth, it is creating a work environment and culture that allows them to engineer the career experiences and working futures they desire.

The bank views this proactive creation of opportunities for young people as a core part of its purpose to do good for individuals, families, businesses and society. As such, ensuring it delivers innovative, opportunity led culture is integral to its people development strategy.
Nedbank is committed to being an employer of choice for the youth of South Africa, and all the regions in which it operates; providing them with a career path that rewards passion, innovation, and hard work and ensures its young employees have every opportunity to shape the future and make a positive difference in society, all while realising their full potential. Nedbank's delivery on this mission is evident in the many stories of success, development and personal and professional growth that many young Nedbankers eagerly tell.
These are just a few of them:
Bongane Sibanyoni (35)
Executive Head: Regulatory Advocacy and Policy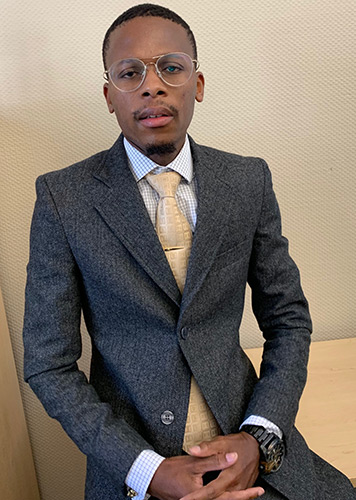 When Bongane Sibanyoni spent eight months, fresh out of university, working in a Nedbank call centre, he had no idea that his career path would one day see him return to the bank where he would have the opportunity to use his qualifications to help shape the legal industry. After his short stint in the Nedbank call centre, Sibanyoni completed his articles at SA law firm, ENS, and then quickly climbed the ladder to achieve a senior associate position in just five years. But destiny had other plans for Sibanyoni, and he once again found himself at Nedbank as a senior legal advisor. He quickly made his mark at the bank and was mandated by Nedbank to establish and run a completely new division focused on competition law.
Thanks to this opportunity, Sibanyoni gained extensive knowledge and experience of the financial services industry, which was further underpinned by Nedbank sponsoring his senior management training. Sibanyoni's passion for giving other young people the same opportunities he enjoyed also saw him becoming very involved in community empowerment work through an organisation called #CountryDuty, which he co-founded with Tumi Sole. He believes that this combination of experience, innovation and his personal purpose to do good was what led Nedbank to later make him the group's Executive Head of Regulatory Advocacy and Policy, a position that didn't exist before he was appointed to it.
Today, Sibanyoni has become the face of Nedbank in terms of its efforts to guide and influence regulatory policy and legislation within government, parliament, the National Council of Provinces. "My team and I ensure that our business is well represented and make suggestions as part of the consultative process of forming legislation. We also engage with our organisation on how the new regulations may affect their divisions to ensure that the recommendations we make are beneficial to all stakeholders." Given that Sibanyoni thrives on making legal matters clear and easy to understand for all, it's no surprise that he also works with the Nedbank language and editorial team to ensure the language used by the bank is easy to understand for all its stakeholders. Just another way, Sibanyoni is working to pay forward the opportunities he has had for the benefit of all.
Sarah Koopman (30)
Executive Assistant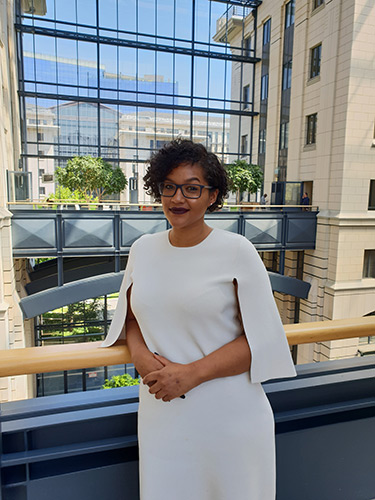 Sarah Koopman is an Executive Assistant for the group managing executive of the retail and business banking cluster at Nedbank. With a Bachelor of Social Science in politics, philosophy and economics, and a Bachelor of Philosophy Honours in journalism, Koopman says her curious mind, ability to think strategically and to learn fast has played a significant role in her growth during the past year in which she has been with Nedbank.
"When I first started in my job, someone described executive assistants to me as 'selfstarters'. I wasn't entirely sure what that meant until a few weeks into the role, when I could see how important it is to be able to ask questions and acquire the knowledge that you need to be as effective in the role as possible," she says.
Before moving to Nedbank, Koopman worked in publishing. She believes the past year in her position at Nedbank has provided a wonderful practical lesson in how transferrable skills can be, saying she has brought many from her previous work life that have served her well in her job at the bank. "It has also been a great insight into how diversity in thought, perspective and background can bolster a team, as everyone has something fresh and different to bring to the table."
Koopman's energy and eagerness to learn has her planning to travel extensively. "Travel allows us to gain insights into people, cultures and different ways of doing things. Every time I have travelled, I've been even more inspired about what is possible for South Africa. "I feel South African businesses and the corporate world are in an incredibly powerful position to champion real change in the lives of South Africans. I hope to be part of the generation of South African businesspeople who can bring to life new possibilities for creative and unconventional solutions to the challenges facing our country's people at the lowest ends of the economic spectrum who are often forgotten or undervalued."
Freelance Vuma(32)
Head: Segment Design & Development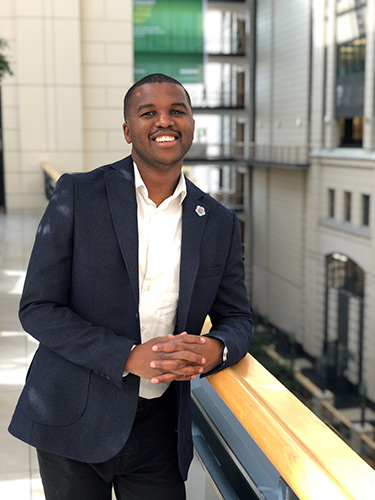 Freelance Vuma — better known to his friends and colleagues as Lance Vuma — is Head of Segment Design and Development at Nedbank, responsible for client value propositions for small businesses and professional clients. He graduated from Monash University in Australia with a BCom accounting degree; Vuma then furthered his studies at Milpark Business School with a postgraduate degree in business administration. He joined Nedbank in 2009 as part of the company's graduate placement programme, and says he has been fortunate to have had great leaders who realised his potential and nurtured his talents so that he has been able to grow and flourish in the organisation. Vuma has been in his current position since 2017.
"My role entails understanding client pain points and meeting client needs by driving digital innovation for small businesses and professional clients, using data to make strategic decisions and implement client-centric solutions for Nedbank," Vuma explains. His ability to lead teams to deliver solutions, solve complex problems and break them down into simple, applicable concepts, communicate and motivate effectively, and think innovatively has served him well so far in his career. "I aspire to be the best person I can be. Many people are consumed with positions; I rather choose to be a leader who can positively impact the lives of people I meet. I do this by ensuring that as a leader I display a good measure of IQ, EQ (emotional intelligence) and DQ (decency).
I believe these are the qualities that are desperately needed as we go into the Fourth Industrial Revolution, a time that comes with a lot of ambiguity and requires teams with diverse backgrounds, skill sets and thinking to work together." Vuma wants to make a difference in South Africa. "I would like to be that point of inspiration that shows that the only way we get through hardship — either business or personal — is by working together and displaying the qualities of ubuntu. A reference point for every young person to remember is that we are never too small to make a difference. The Dalai Lama famously said, 'If you think you are too small to make a difference, try sleeping in a room with a mosquito.' "
Lerato Mathibela (28)
Head of CA Training Programme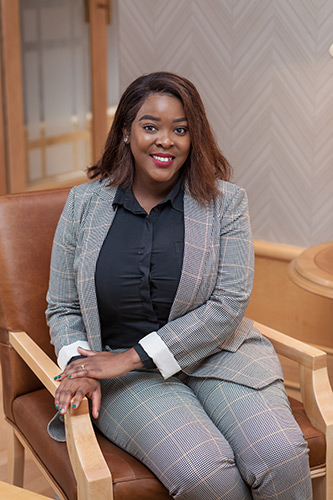 While she may not even have been aware of it at the time, Lerato Mathibela began an exciting career journey with Nedbank when she successfully applied for financial support from the Thuthuka Bursary Fund. In line with its purpose to use its financial expertise to do good, Nedbank is one of the top 10 donors to the Fund, which serves as an invaluable education development vehicle, affording talented and passionate young South Africans the financial means they need to become chartered accountants.
According to Mathibela, receiving the bursary was exactly the springboard she needed to the future she envisaged. "Before getting the Thuthuka Bursary, I was basically a young matriculant with a dream that seemed daunting and impossible. But the funding I received not only allowed me to pursue that dream; it also gave me the confidence I needed to go all out to realise my career visions, because I realised that there were corporations in South Africa that recognise the potential in the country's youth and are prepared to invest in it."
And receiving the Thuthuka Bursary was just the beginning for Mathibela. Little did she realise that Nedbank not only supported the fund, it was also one of the first banks in SA to offer recognised CA training outside of the typical audit firm environment. So, after completing her degree at the University of Pretoria, she was accepted into the Nedbank CA Training Programme and the rest, as they say, is history. "Nedbank not only helped me to complete my studies, they also gave me the fantastic opportunity to get my career off to a flying start.
The fact that they believed in me, supported my dreams, and trusted me enough to work on some very strategic and important deals, even though I was technically still in training, was a massive boost to my confidence and my career." And her success journey didn't end there. After qualifying as a CA, Mathibela took up a permanent position in Nedbank Corporate and Investment Banking where her talent, passion and hard work made her a highly valued member of the team. So, when the head of the Nedbank CA Training Programme transferred to another Nedbank division Mathibela was offered the position. She accepted, and her Nedbank journey came full circle. Today, she heads up the very programme that gave her the chance she needed to launch her career, and she is loving the opportunity she has to change the lives of other young South Africans in the same way.
Mpendulo Matsebula (33)
Head: ELB Segment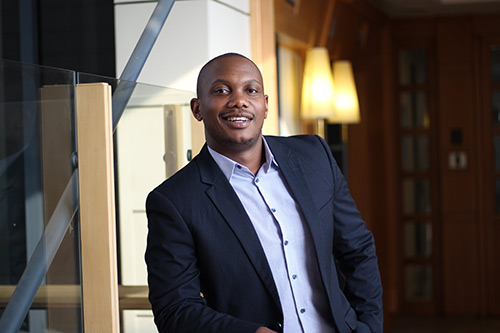 A significant percentage of the South African population is either unbanked or underbanked, lacking access to vital financial services and solutions that can help them grow their futures. To resolve this challenge, Nedbank developed a strategic Entry Level Banking (ELB) portfolio designed specifically to offer this market invaluable support.
"We asked ourselves how we could engage with disenfranchised people who haven't banked before or who don't have financial management skills and how we could get them into banking," says Mpendulo Matsebula, Head of Entry Level Banking. "We wanted to know how we could give them the insights they needed to understand their finances better and get them into the world." The Nedbank ELB portfolio forms part of Nedbank's strategic stance to become an inclusive bank for the majority of South Africans. The goal is to create a specific focus on people who have been excluded from banking, who are unbanked or who cannot get a bank account because of the high price points or the perception of complexity. "We wanted to build a niche segment for people who fit this description, a segment that understands their unique pain points and needs," adds Matsebulo. "So, we have developed a value proposition over the past few years that speaks directly to this market. It costs less, it is easy to use and it provides people with access to modules around financial inclusion and education." The ELB platform includes a variety of different products. One of these is Mobi Money, a digital wallet for the unbanked that allows them access to basic banking services without them having to go into a branch, do paperwork or have an understanding of banking. They can simply handle transactions on their phones. "This is just one of the packages that we offer. We also have stokvels and plans designed around those entering the market," says Matsebulo. "Our job is to understand their pain points and delivery value to them while guiding them down the path to financial inclusion. We have a dedicated consumer financial education team that goes into the market and speaks around financial wellness and wellbeing in general." This team focuses on providing people with a clear understanding of what they are getting into with their banking and what solutions are ideally placed to plug the holes in their financial lives. The solutions also come in at a lower price point and communication is managed through mobile platforms so as to engage with the market on its own terms. "We have set up strategic nodes in all the provinces, in communities, where we get to know people and understand what they would want from their banking services," concludes Matsebulo. "Our strategy is to reach as many people as possible, using the channels they prefer and offering them solutions they can appreciate." Matsebula holds a Post Graduate, Bachelor's degree and Advanced Diploma in business analysis.
Pelonomi Moiloa (26)
Data Scientist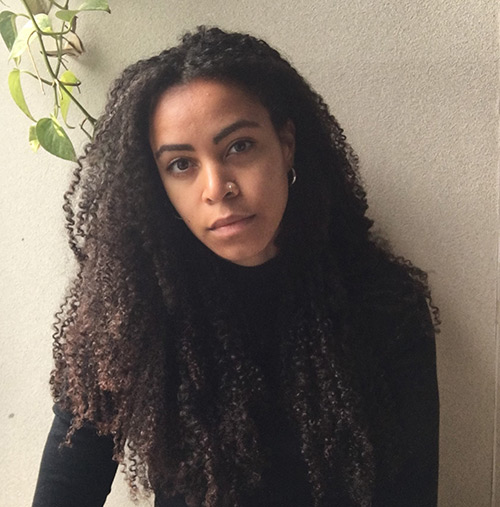 One wouldn't think that a talented young graduate with degrees in biomedical and electrical engineering would end up contributing to the transformation of banking, but that's precisely what Pelonomi Moiloa is doing today. As part of her studies towards her two engineering degrees, Moiloa worked at the Council for Scientific and Industrial Research (CSIR) during her vacations. Later, she participated in the CSIR's Data Science for Impact and Decision Enablement (DSIDE) programme – a decision that effectively changed the course of her career and life.
"Through the programme, I realised that this is what I wanted to do as a career, so I continued to be involved with the programme even after I had attained the credits I needed. After graduating, Moiloa became an intern at the Maraka and DPSS units and applied for a scholarship to further her studies overseas. During this time, she also became a mentor for DSIDE and facilitated the introduction of machine learning and data science concepts to students.
Her scholarship application was successful, and she spent the next two and a half years completing her Masters in Deep Learning for Neural Activity in Japan. On her return to South Africa, Moiloa was offered a position as a data scientist at Nedbank, which immediately recognised her passion for effective data application to deliver sustainable human outcomes.
In turn, Moiloa recognised in Nedbank a likeminded institution that shared her authentic values and was committed to providing the kind of collaborative, innovative and client-centred culture she desired. When asked to explain what she does for a living, Moiloa laughs: "I have to explain this often to non-technical people and I still haven't yet found a successful way to do so. I would define it as automating the process of sifting through historical data and looking for patterns that can be leveraged through programming and machine learning to facilitate informed business decisions."
Moiloa is completely immersed in her field and is committed to encouraging more young people to consider it as a career. "With the new frontiers created by data, technology and the 4th Industrial Revolution, the career landscape calls for new skillsets and offers new opportunities. It doesn't matter who you are, or where you currently find yourself in life, you can begin your journey towards a rewarding career. And if that career involves data science, you can be sure your work will be fulfilling, challenging and rewarding."
Darren Sookraj (29)
Senior Manager: MFC Sales and Support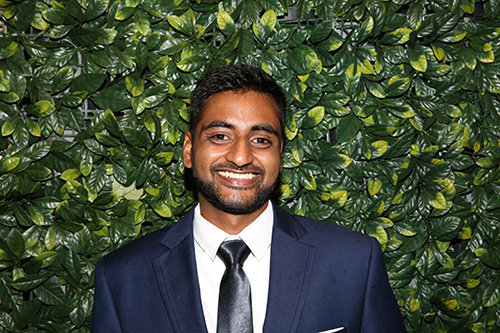 Darren Sookraj is the Senior Manager For Motor Finance Corporation Sales and Support at Nedbank, playing both a strategic and operational role in the business and managing a developing sales team. From a learning background in management, Sookraj joined the company 10 years ago. He chose Nedbank because his aspiration to become a chartered account, his love for numbers and his keen interest in financial markets made the bank a perfect choice. But why Nedbank specifically? "It was undoubtedly its culture that attracted me.
The foundation from which Nedbank operates captivated me the most. It creates an environment where I feel stimulated and empowered. I can materialise development and growth, and through my journey with the organisation I've felt looked after as a person rather than just a number," he says. Looking to the future Sookraj's focus is on completing his Bachelor of Accounting Science degree with the intention to pursue a senior role in the finance section of the business. "Nedbank highly supports a learning culture and the number of initiatives the bank offers promotes career growth.
The good thing is that nothing comes on a plate — the opportunity for growth is always there, but the drive has to come from the individual if they want to create that change." Sookraj feels strongly about contributing positively to the future of South Africa. "I feel I have already started to create a contribution by the investment I have made in the people around me, both in business and outside. I spend a lot of time trying to develop others, teaching them to think in ways that help them realise their potential, so that they are more equipped to make a difference. "The greatest struggles today won't improve if we, as leaders in different disciplines, do not create a drive for improvement. It all starts with people, and exercising the influence we have to create positive change. My pledge has always been to pay it forward, and I feel that as my circle of influence grows, so will the positive change."
Zanel Steyn (31)
Head: Monitoring and Reporting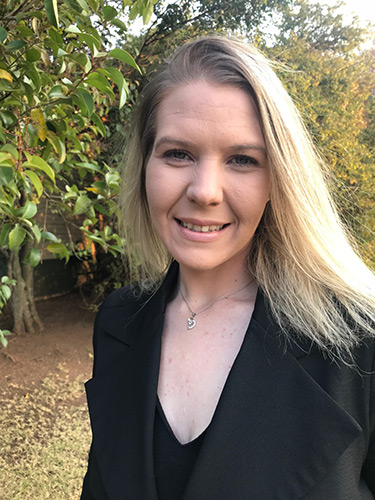 Zanel Steyn is Head of Compliance Monitoring and Reporting in the retail and business banking cluster of Nedbank. Compliance, explains Steyn, is a second line function, which means it is not directly involved in the bank's day-to-day operational activities. The department provides guidance on how to best comply with applicable laws and legislation, and rules applicable to financial institutions. With a forensic auditing degree balancing investigative skills with accounting, audit and tax principles and procedural law, Steyn did her postgraduate studies in risk management, and plans to use her CPrac designation to further qualify her in the practical aspects of compliance.
Steyn prides herself on a solid work ethic, putting in the hours to get a task done, and producing quality outputs. Building good rapport with stakeholders is also a primary focus in her role. "The only way to build good relationships with a range of different personalities is to be respectful of every individual you work with, be open-minded and take time to understand their point of view — and never be dismissive," says Steyn. "Everyone has a different frame of reference, and it's important to always remain respectful of that. In an assurance position in a financial institution, nothing can be more important than buy-in from business stakeholders."
What excites Steyn about her role at Nedbank is the number of young people she has in her team. She hopes to mentor these individuals, to teach them that hard work pays off, and to coach them to be the best they can be at what they do. "It's not often that people get excited about risk management, but I hope to get young people excited about the function. I also hope to instil confidence in young people so they can be confident in their positions. I believe in not being afraid to ask questions, speaking up when the situation warrants it, and always doing the right thing — not only for the organisation, but also for our clients. I want to be actively involved in their development — the same way that I have been supported by my mentors and managers."