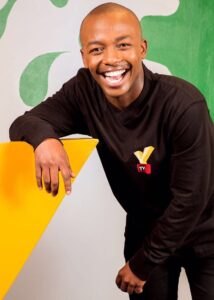 HE WANTS HIS DREAMS TO OUTLIVE HIM
FORMER Yo-TV child-star Lwando Mbelu is the morning drive-time host of Rise Up Egoli, a scintillating breakfast show on Joburg Pulse, the City of Joburg's newly-launched digital radio station. The virtual TV and radio is the first person to grab the coveted spot and to broadcast on air as the City expands its communication platforms to stay abreast of the fourth industrial revolution. Dubbed the Joburg Pulse, the city's digital radio station covers service delivery issues and shares information about influential personalities including councillors, the Executive Mayor and MMCs.
It also highlights the successes of and promotes small business enterprises from local communities. Mbelu says Joburg Pulse has given him a window into the media industry and is affording him a platform to be versatile, as he is now not only doing TV presenting but radio too. "Everything is well orchestrated. I've always wanted to work for the City of Joburg.
To be part of this establishment and what it represents is truly amazing," he says, highlighting the transition from mainstream media to public service. He believes the recent launch of Joburg Pulse will help bridge the information and technology gap underlined by the Covid-19 pandemic. "I've always been extremely fascinated by the world of media and performance art," says Mbelu, speaking of his other aspirations. Before making his way to the City of Joburg, Mbelu was a TV presenter on Craz-e on E-tv and Yo-TV on SABC1.
He studied for a BComm accounting degree at the University of Joburg, but later took a detour into theatre production, majoring in sociology and marketing at Wits University. When he's not on the airwaves, Mbelu plays Neo the photographer on SABC1's newest sitcom, Ubethina Wethu. It is South African adaptation of the international hit series Ugly Betty and airs on Mondays, Tuesdays and Wednesdays at 7.30pm. The actor, MC, voice-over artist and TV presenter-cum-radio host started his 15-month internship with the City of Joburg in February 2021. He hails from Lusikisiki, a small town in the Ingquza Local Municipality of the Eastern Cape. "I don't speak from a point of privilege. I come from a place of lack.
I've always been extremely hard working and radical about my dreams, because I want them to outlive me," he says. Mbelu urges everyone to live a life of purpose. "Live your life consciously and with intention, and make it meaningful." He asserts that Joburg Pulse is interactive and encourages everyone to tune in to the Rise Up Egoli Breakfast Show on Joburg Pulse – The heartbeat of the City.