For South Africans travelling locally, a fear of the unknown has been found to stand in the way of exploring options outside of the standard city stay.
It stands to reason that locations which are better documented — whether in traditional media or on holiday Instagrams from family and friends – feel more accessible and less intimidating than an adventure to a lesser-known area. For South African Tourism, the challenge was clear: it was necessary to get people out and taking trips.
"It's about getting people out of their houses," explains Mashoto Mokgethi, hub head: domestic at South Africa Tourism. With her mandate to stimulate travel within South Africa's borders, this was the very literal first step. They had to start somewhere – why not close to home?
Enter Sho't Left, a campaign aimed at showcasing South Africa to South Africans, in the form of day trips and short stays. It's remarkable for the results it's achieved: while measurable only after a year or so, the results demonstrates quite clearly that domestic travel is on the up, with a 60% increase in short stays in South Africa.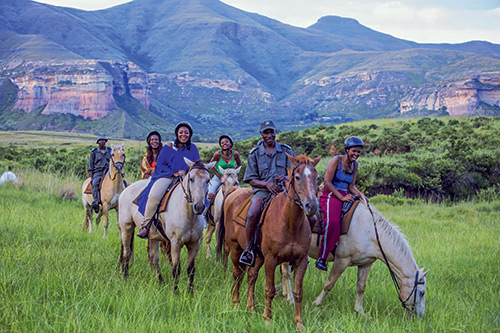 The Sho't Left campaign's website, shotleft.co.za, serves as a free platform for businesses in the tourism industry to advertise. In a win-win situation, service providers' offers and incentives serve to draw additional visitors to the site, which in turn is better-equipped to served those searching for answers about what's available in a particular area. And yes, this level of information is necessary: most of those making bookings through Sho't Left would be either those who are well-accustomed to travel for reasons of business or obligation, but hadn't considered leisure trips, or those who've tried all manner of city experiences and are just not realising that there's more to explore outside of the urban jungle.
In another metric of Sho't Left's success, its social media interactions have grown exponentially. An audience of more than 450 000 followers on Facebook makes it the most engaged platform, providing the answers to questions that first-time travellers pose. From the touchingly simple to the excitingly complex, those queries provide some insight into what's on the minds of domestic travellers, and where their concerns lie.
Of course, the conversation can't all take place online: to combat misconceptions or a simple lack of understanding about unusual holiday destinations, South African Tourism has devised a range of innovative collaborations and informational campaigns aimed at local travellers planning a trip within their own country's borders.
The Flight Centre Stokvel was created as a partnership that would serve to make travel tangibly accessible without compelling customers to go into debt for the holiday of their dreams. Some travel platforms have ventured into various models of extending credit to their customers, but this mode of payment leaves many rightfully intimidated, whereas the tried-and-tested stokvel model of accumulation is as sensible as it is familiar. With participation starting with an initial amount of just R500, after which stokvel members can decide on the holiday of their choice and pay it off before booking and taking their trip, the option is an affordable one for many. Better yet, it's successfully married a traditional method of saving with the very millennial habit of group holidays — one that gen Z travellers are sure to take up, too.
In a promotion building on more insights int consumer and traveller behaviour, another collaboration aims to encourage business travellers to extend their stays. The logical argument goes that if you've travelled for work and you've got no reason to hurry back, it's a great time to take a few days to explore a new area of your country. This easy upsell is facilitated by partnerships with the providers with whom these travellers have already made their bookings, which keeps things simple for everyone involved.
To remove an additional barrier to booking holidays online, South African Tourism has planned a series of activations allowing would-be travellers to talk to representatives able to answer all of their questions in person. For those nervous not only about committing to a trip but also about booking it online, the human interaction can go along way to eliminating anxiety. The activations meet potential customers where they are, "popping up" at events where members of South African Tourism's target demographics are likely to spend their leisure time.
Perhaps most excitingly – particularly for those counted among the significant portion of the population who love a bargain – Travel Week is planned to take place again this year in the last week of September following 2018's success. Crafted to serve as a "Black Friday of Travel", the week-long promotion sees partner organisations in the industry, from hotels and boutiques to airlines and travel agents, offering discounts of up to 50% on travel purchases of all kinds. Once again making provision for the conservative South African consumer, Travel Week differs from the standard Black Friday promotion in that it doesn't treat travel purchases as impulse buys. For this reason, significant education about the event starts months in advance, to ensuring that shoppers have time to save up even if they're only anticipating spending the smallest amounts buying the biggest bargains.
Travel is fun, and it's an enjoyable product to market, but it's worth pausing for a second to consider the weight of the message being relayed. "South Africa belongs to all who live in it, and all who live in it have the right to enjoy it," is one of the key points that South African Tourism hopes to relay, and this reality is something of a revelation for many who've received and believed the idea that travel is only for the very wealthy. It's clear how the Sho't Left initiative will benefit small business owners in the tourism sector if holidaymakers begin to move off the beaten track, but it's perhaps equally gratifying to think of the travellers of all ages coming to the
realisation that open spaces, exploration and time dedicated to leisure are theirs for the taking.
Take a Sho't Left now. Go to www.shotleft.co.za
Join the conversation on Sho't Left social media platforms:
Facebook: Sho't Left
Twitter: @Shotleft
Instagram: @shotleft