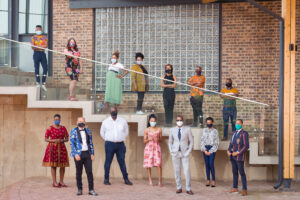 The Mail & Guardian 200 Young South Africans awards ceremony will take place on 24 June 2021, continuing with virtual celebrations in line with Covid-19 restrictions. For the past 16 years, the event has celebrated 200 young South Africans annually who create a positive, tangible impact on society, and this year is no different. There were over 5 300 nominations submitted to the publication, proving that contrary to popular belief, youth are committed to making South Africa and the continent a better place for all.
The University of Pretoria (UP) has over the years had many of its staff, students and alumni featured on the list, furthering the university's aim to produce citizens who are not only suitably qualified, but also committed to using their skill sets in service of the communities they live and work in.
Some of UP-aligned honorees over the years have included P&H Boutique owners Papa and Hetty Boachie-Yiadom, who appeared on the 2019 list in the Business and Entrepreneurship category; Dr Vukosi Marivate, chair of data science and the principal investigator at the Data Science for Social Impact Research Group (DSFSI) at UP, who appeared in the Covid-19 Heroes Editor's Choice category in 2020; Dr Taryn Bond-Barnard, senior lecturer and researcher, who was nominated in the Education category in 2019; Khuraisha Patel, human rights lawyer and legal researcher, who appeared in the Justice and Law category in 2018; and former student representative council president David Kabwa, who appeared in the Politics and Government category in 2020. Over the years, 83 people who are affiliated to UP have made the list. Senior manager of alumni relations at UP, Samantha Castle, emphasised that these honorees are suitable mentors to other young people around them on university campuses, in schools and in other sections of the community.
"When young people see that someone as young as I am and who comes from a similar background to mine is making a difference, they too will be inspired to work hard, and contribute in whatever way they can."At UP, we encourage these young people to act as mentors on campus both to alumni and current students, and to also share their unique stories as guest speakers at some UP-hosted events," Castle said.UP vice-chancellor and principal, Professor Tawana Kupe, said the importance of lists such as this one is that it celebrates young people making a difference, not only to encourage them, but also to put a spotlight on all they do.
"It is important that we celebrate and commend young people who are making a difference, because our collective development as a society lies in the hands of the youth — they are the future. South Africa's institutions of higher learning are important spaces for the preparation of each new generation of trailblazing innovators and leaders. At UP, we empower our students and staff through high quality education and cutting-edge research that makes a positive transformative impact."
Kupe added that it is through the collaboration of sectors, including the various projects and initiatives that these young people are a part of, that meaningful change can be made in the country and on the continent. "At UP, we aim to be the number one university in Africa and compete with other universities globally. UP does not compromise when it comes to quality, because a university should not just give out degrees and act as an ATM for qualifications, but should be more than that — it should use knowledge and human capital to change the situation on the ground, creating knowledge and research," Kupe said.
About The University Of Pretoria
The University of Pretoria (UP) is one of the largest contact and residential universities in South Africa, with its administration offices located on the Hatfield Campus, Pretoria. This 113-year-old institution is also the largest producer of research in South Africa.Spread over seven campuses, it has nine faculties and a business school, the Gordon Institute of Business Science (GIBS).
It is the only university in the country that has a faculty of veterinary science, which is ranked top in Africa, and overall has 120 academic departments, as well as 92 centres and institutes, accommodating more than 55 000 students and offering about 1 100 study programmes.UP is one of the top five universities in South Africa, according to the 2019-2020 rankings by the Center for World University Rankings. It is also ranked among the top 100 universities worldwide in three fields of study (veterinary science, theology and law), and is among the top 1% in eight fields of study (agricultural sciences, clinical medicine, engineering, environment/ecology, immunology, microbiology, plant and animal sciences and social sciences). In June 2019, the annual UK Financial Times Executive Education Rankings once again ranked GIBS as the top South African and African business school.
The university also has an extensive community engagement programme with approximately 33 000 students involved in community upliftment. Furthermore, UP is building considerable capacities and strengths for the fourth industrial revolution (4IR) by preparing students for the world beyond university, and offering work-readiness and entrepreneurship training to its students.As one of South Africa's research-intensive universities, UP launched the Future Africa Campus in March 2019 as a hub for inter and transdisciplinary research networks within UP and the global research community to maximise 4IR innovation, and address the challenges and stresses our continent and world is facing.
It also launched the Javett Art Centre in September 2019 as a driver of transdisciplinary research development between the humanities and other faculties. In November 2020 UP launched Engineering 4.0 as a hub not only for smart cities and transport, but also to link the vast resources in technology and data sciences to other faculties via Future Africa. These initiatives are stimulating new thinking at the frontier of science for transformation.
For more information, visit www.up.ac.za