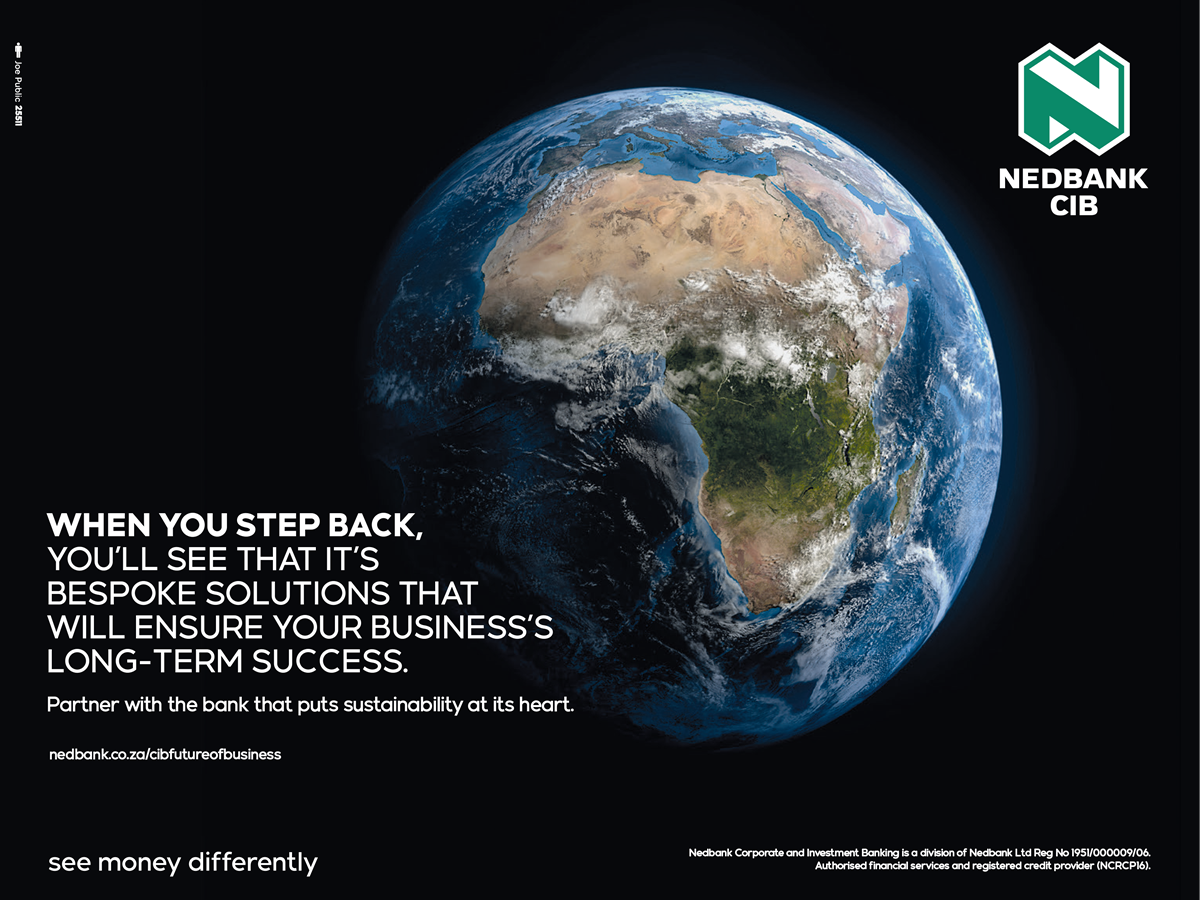 Nedbank is looking for the next generation of banking and business leaders
– James Nash
The way in which we, as a global society, go about our work is changing at an accelerating pace. Technology has disrupted countless industries rapidly and will continue to do so at an exponential rate for the foreseeable future, as famously stated by Gordon Moore as far back as 1965. It is an intimidating prospect, but this cloud mostly has a silver lining. More tedious jobs might disappear outright as automation and robotics become more ubiquitous. New jobs will take their place, and the workforce will likely have to adapt and develop
new skill sets at every level.
At Nedbank Corporate and Investment Banking (CIB), the business is aware that the rapidly changing world requires dynamic young people. There is an initiative to actively look for such individuals to bring them into its ranks through its Nedbank CIB Graduate Programme. The programme is designed to attract, develop, grow and retain the very best graduates, primarily from previously disadvantaged groups, and to build a strong talent pipeline of dynamic young professionals who can deliver scarce skills, contribute to business strategies and drive the transformation of the business and industry. In return, Nedbank CIB offers them the insights, experience and opportunities they need to become tomorrow's global banking leaders.
The leaders of this next generation of workers will have to be different from their predecessors. That is to say, the days of highly specialised people making lifetime careers out of a very specific skill may be largely over. This is a reckoning every industry must face, as was made evident by the recent release of OpenAI's GPT-3, the most powerful language-based artificial intelligence built thus far, which can write poetry, create a blog that can attract tens of thousands of followers who believe it to be human, develop a fully functional app from a text description, and much more. Many of its talents were things considered to be too 'human' for AI to emulate, yet it has been successful. What is needed now is a new generation of business leaders to forge our economic future and who are capable of envisioning and creating new industries, or vastly changing established ones.
Human expertise will still be needed but its application will not be quite the same as before. Corporate ladders are no longer the only way to reach the highest echelons of individual success. The startup economy in South Africa and abroad has proven that young people are more entrepreneurial out of necessity and that they are also succeeding, disrupting industries and surprising those not paying close attention. These youths are innovators, thinkers, creators and collaborators who can adapt to the rapidly changing circumstances of our world today. They do not have one field of expertise but several – something required of young people who have grown up during the simultaneously tumultuous and triumphant eras that technology has defined.
The Nedbank CIB Graduate Programme is an incredible opportunity for such individuals to launch their careers at one of South Africa's leading financial institutions. Those accepted into the programme are exposed to theoretical and practical training in a diverse range of fields and are mentored in mergers and acquisitions, private equity, corporate finance and a host of other specialised financial fields by in-house industry experts who have proven themselves and their expertise over time. The qualifying graduates are all employed as fulltime Nedbank staff members, with all accompanying employee benefits, for the duration of the programme.
The initial six-week investment banking foundational programme is only the beginning. Graduates eventually embark on an 18-month programme that educates them intensively in everything from investment banking disciplines and fintech trends to personal leadership and design thinking methodology.
They are also encouraged to make the most of their time by getting involved in the Nedbank CIB-endorsed corporate social investment project, where they can make a real and meaningful impact on society. Both the banking and business communities are global, and the programme recognises this by sending participants to two international destinations to gain African and global industry experience. Nedbank CIB sees money differently and strongly believes that it is necessary to go beyond seeing to proactively doing. The CIB Graduate Programme is a key way to prove this commitment by creating opportunities for recently graduated young difference-makers to harness their talent, passion, creativity and innovation so they can be the change they want to see in the world.