The answer to being a better woman leader is not merely imitating male leaders, but developing your own style of leadership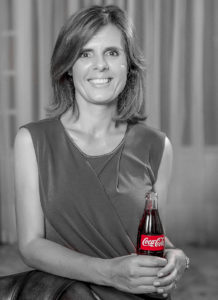 After almost 25 years of working at The Coca-Cola Company, Matrona Filippou is returning to where it all started — Johannesburg. This is where she began her career at the African headquarters of one of the world's most valuable and recognised brands. Now President of the Southern and East Africa Business Unit at The Coca-Cola Company covering 18 countries across the region, her steady rise speaks to her willingness to lead the change and create the future, being open to other people and new ideas, encouraging experimentation, and respecting and embracing diversity.
"For many women, the real challenge is self-belief, being comfortable and confident in yourself. Most women I know have experienced that moment when their comments during a meeting are ignored; they are overlooked for assignments or put their hand down far too quickly when they are not asked to share their views. It requires enormous resilience in the face of these microaggressions to speak up and stay strong.
"It's the time of the year when we celebrate Women's Day in South Africa — one of my favourite days of the year. It's a chance to honour our mothers, daughters, colleagues and friends: the many special women who bring such value to us. Here are some personal reflections of the day."
Lead the change, create a future
For the past two decades, Filippou has built, grown, and inspired diverse, world-class teams to drive a high-performance culture at The Coca-Cola Company. Her climb through progressively challenging positions allowed her to develop and hone her ability to take a strategic vision from the drawing board to an effective, actionable reality. It also enabled her to successfully apply her skills as a game changer and thought leader in many roles. One of these was as lead architect of a landmark merger for the company in Nigeria.
"People often don't realise how entrepreneurial Africa is and how much opportunity there is," says Filippou. "In 2016, we identified Chi Limited, the leading value-added dairy, juice and ready-to-drink (RTD) tea company in Nigeria for acquisition". Filippou led a team, working with banks and corporate mergers teams, to pursue the transaction, which resulted in the successful execution of the largest juice and dairy acquisition for The Coca-Cola Company on the continent.
"We needed to adapt to the changing needs of our consumers. The acquisition would spearhead the change we were looking for, staying on top of consumer trends and creating a future in diverse categories. From a personal point of view, making your voice heard, producing a vision and staying the course despite the naysayers, enabling and empowering people to deliver and to be comfortable to deliver on that vision, and trusting in their ability to do so, has been one of the greatest learnings in working with diverse teams."
Learning from others
Her first appointment outside of Africa was three years in Turkey as the Chief of Staff to the firm's Eurasia & Africa Group President, based in Istanbul. Then it was on to Kenya, Nigeria and later Greece.
She credits working alongside some extraordinary and inspirational colleagues as well as her father for helping to develop her unique leadership style that stood her in good stead as she charted her way through different cultural contexts.
"My father taught me three invaluable lessons that have shaped my approach to work and life: resilience, courage and decisiveness," she says. "Resilience is an ongoing attitude of looking at unexpected issues as challenges rather than obstacles. Courage is leading with principles — your true North — and not shrinking from bold actions for fear of failure. Finally, decisiveness is critical to our success as leaders. I believe inertia or indecisiveness is crippling for the individual and the company. Make the call: right or wrong, you can always course correct later."
Putting the team first
Her record in general management, mergers and acquisitions, customer management, portfolio innovation, strategy and effective implementation is founded on a collaborative approach to getting the job done. After working in several countries there is one golden thread that runs through her approach to managing teams: encouraging and fostering continuous improvement through collaboration and by inspiring and empowering teams to work effectively and efficiently.
"I do believe that exceptional leaders are people who put their team first. Most of us know what sort of people we want on our teams, those who tick the boxes of integrity, commitment, and high energy," she explains. "Most team members would probably say they look for the same triumvirate in their leaders."
Filippou believes in continuous improvement, collaboration and in fostering a winning spirit. For her, team leadership is about inspiring and empowering groups to achieve a collective goal, and then giving them the space to do so effectively. She strives to create an environment of learning to help others continue their professional development, with the goal to create value by helping people enhance their skills while exploring new ideas and solutions.
"As women we need to continuously build and develop our professional skills. It is one thing to create a strategic vision on paper, but it is an entirely different thing to make that a practical, actionable reality," she says. "This only happens when you offer a learning environment for others to continue their professional development and enhance their skills while exploring new ideas and solutions. We must all become perpetual learners and as leaders we must foster an environment that excites our teams to do that."
Stop worrying
Of course, like many other women, striking the elusive work/life balance has proven a challenge and being passionate about work, while being loving and present for her family has required Filippou to make determined and sometimes hard decisions. "It may seem glib, but sometimes it takes courage to look for balance and act on it," she adds. "Between the hustle and bustle of meetings, travel and work and home commitments, there are times when you need to stop, reach for that bar of chocolate, curl up on the couch, and watch a feel-good movie."
In terms of the leadership style of female executives, Filippou looks back on the many fruitless hours she spent worrying as a young professional as she was making her way in the corporate world.
"Worrying is, I believe, counter-productive, and women are especially prone to it," she admits. "Perhaps due to our management styles, which are more about collaboration and empathy than confrontation, more about asking questions and listening, rather than barking orders and shutting down debate. Of course, I am generalising, but women do manage differently and the answer to being a better leader is not merely imitating male leaders, but developing our own style of leadership."
As she takes the helm of the Southern and East Africa region for the beverages giant, Filippou is optimistic about new opportunities that will arise in a post Covid-19 reality. The business sector must continue to put our people and customers first, have the courage and commitment to grow its operations in a very tough economic environment and to remain passionate about applying innovation and collaboration in leveraging and creating opportunities that enhance the prosperity of communities across the continent.